An old client and inveterate wine collector had purchased a new home and had asked MH Akers Custom Homes to transform an oversized upstairs closet into a wine cellar. He was looking for perfect wine storage conditions and functionality as well as a little jewel box of a space. We created, together with the client, a rough sketch of the layout and specifications then stripped the walls and ceiling of their drywall and the floor of its carpet and subfloor. A vapor barrier was installed on the warm sides of the walls, floor, and ceiling then polyurethane to seal cracks and finally blown cellulose insulation.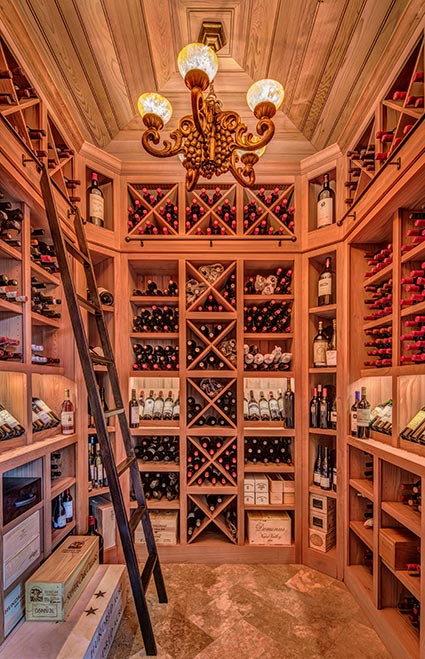 Faced with an isolated second floor space, we didn't have the luxury of access to the outside for placement of the cooling condenser unit. Working with our HVAC contractor and WineGuardian wine specialists, we chose a package unit to be placed in the attic above the wine storage room. In order to manage the ventilation of the unit itself, we ducted in from the shaded eaves of the home condenser intake air. Condenser exhaust air was ducted out of the attic through an existing large gable louver. A humidifier was added to the unit in order to optimize storage conditions, and a remote sensor was placed inside the storage space, while a thermo/humidistat was located in the hallway outside to allow easy monitoring and adjusting of the readings and settings…55 degrees Fahrenheit and 70% relative humidity last time I looked.
Storage cabinet design and selection of materials were finalized. We had vacillated between old growth heart pine and clear, all-heart redwood but chose the redwood in the end. We wanted to allow water vapor transmission all the way between the room itself and the warm-side barrier, so we clad walls and ceilings with unsealed 3/4" beaded tongue and groove redwood rather than glued up materials which might create an unwanted intermediate vapor barrier.
The entire conditioned wine storage space actually consists of the principal room plus a bulk storage area behind. In order to access the bulk storage area we fashioned the center section of the U-shaped cabinetry into an access door. Approximately 800 pounds loaded with wine, this seven foot high by five feet wide section pivots on two Igus slewing rings with the additional support of two heavy-duty rigid casters . . . a minor feat of engineering and completely imperceptible. We made double sure that the new stone floor was dead flat level and that the structural support under the bearing points was completely solid.
Steel library ladder, grape-cluster adorned chandelier, and nifty LED accent lighting completed the effect. A most satisfying project and a testament to the collaboration between client, builder, cabinetmaker, and sundry other tradesmen. A wine cellar de grand luxe and a little gem of a space. Let us help you create your very own special place.