Meet Hank Akers!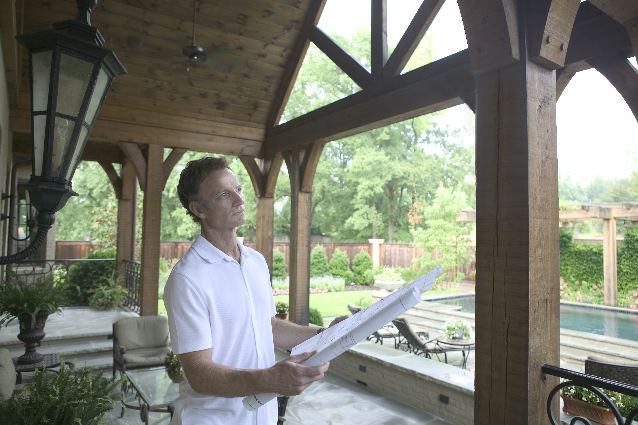 When and how did you get in the custom home business?
I branched out from my father's construction/development business in 1982. I graduated Rhodes College in 1977 and worked as a fine restaurant chef for a period of time before beginning a home construction business with my brother. We started rather modestly, but with an appetite for more ambitious and aesthetically pleasing projects, I guided the company over the years to the level of building fine custom homes.
Do you have a particular style or "trademark" when designing your homes?
Not a style…I love modern as well as traditional…but in realizing the designs of quality architects, I strive for authenticity and a sense of the "real."
What are some of the most common requests you receive from clients?
My clients want quality…fit and finish…like in their fine automobiles. Plus, they're looking for materials and amenities that will distinguish their custom home from the commonplace.
What are a few of the most unique?
My clients tend to be down-to-earth but very successful people. They're not striving for flashiness, but want beautiful reclaimed and natural materials, state-of-the-art electronics, solid well-built construction, timeless architecture.
What areas do you build in? Memphis? Surrounding areas? Out of state?
I have built primarily in East Memphis and Germantown. Of course, I'm always open to new opportunities.
What advice do you offer clients when they are considering building a home?
Regardless of what you do, you're going to spend real money. Start with a real custom architect and a real custom builder. Then, know that you're going to need a quality landscape architect and interior designer. Building the custom home of your dreams requires a dream team.
What do you find sets you apart from other builders?
First, I care passionately about my product and about pleasing my client. Plus, I know a thing or two about building – not everything, but a lot…and more everyday.
What areas of a house do you find your clients are most interested in?
It's funny. Typically, between husband and wife, one or the other will be keenly interested in most every aspect of construction or decoration. I really have to stay on my toes to keep up!
Are there any "don'ts" when it comes to designing homes?
Yes…if you don't have good taste, then hire people who do.
If you weren't a custom home builder, what would you be?
I might be a restaurant proprietor. I might be a vigneron. I must create a product that adds to the fabric of life in a meaningful way.