MH Akers Custom Homes recently completed a renovation and expansion of a custom home we had built for a young family a number of years ago. As our clients' children grew so had their need for entertainment space, each child accumulating a circle of friends and adding new social occasions to be hosted in the family's lovely home. What the family home needed was just a bit more room…
The first task at hand was to increase the size of the great room. This meant incorporating what had been the screen porch into the present great room. Two exterior walls had to be removed, a massive masonry fireplace dismantled stone by stone, intrusive foundation shoring neatly installed at the new load-bearing points, a thousand pound I-beam wrestled into place, a mile of wiring re-routed, and so on.
Here's a look at the new, enlarged space with its adjoining kitchen and bar.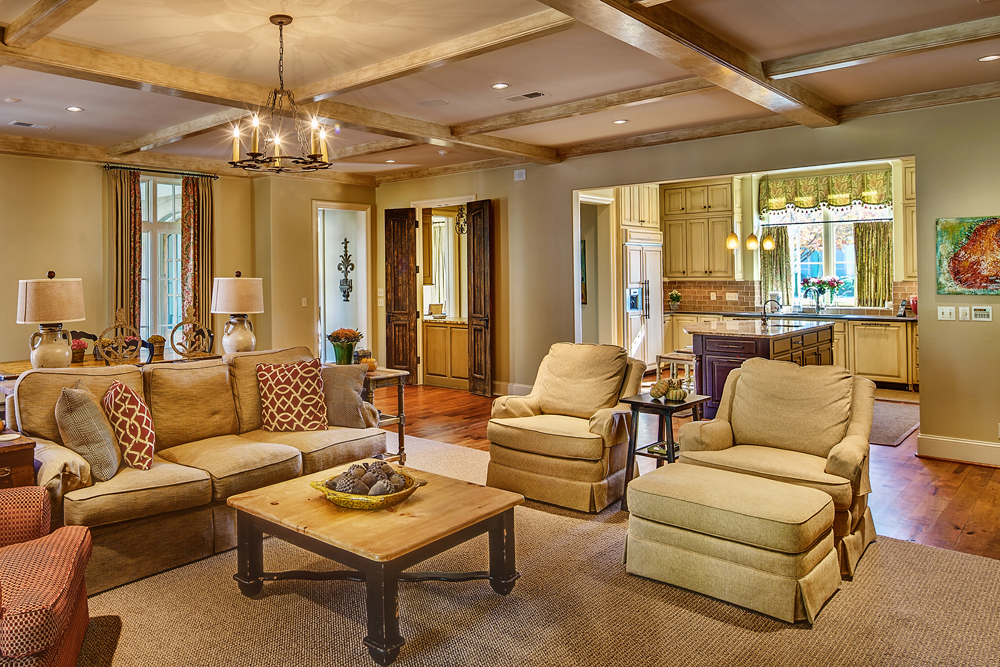 Turning our back to the kitchen and bar, this view looks out towards the rear of the property. The breakfast table sits in what had been the screened porch. The cabinetry flanking the stone fireplace has been enlarged and re-worked to accommodate a TV monitor incorporating the latest technology and sized appropriately for the new space. New terrace doors access the expanded covered porches.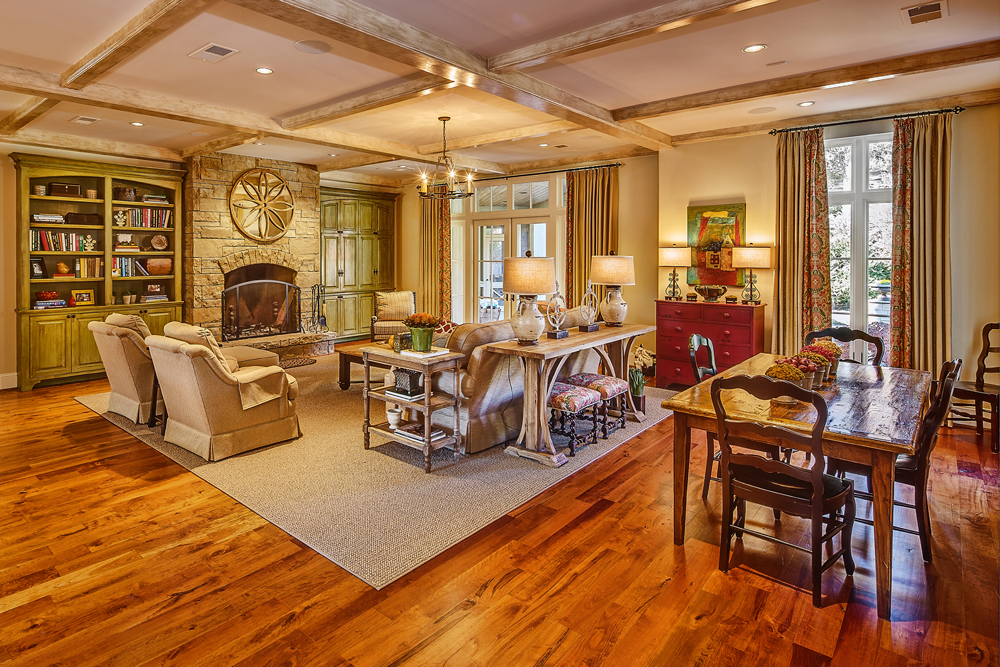 On the other side of the terrace doors is the newly designed rear yard with an expanded serpentine pool, screened outdoor living area, and a connecting covered porch.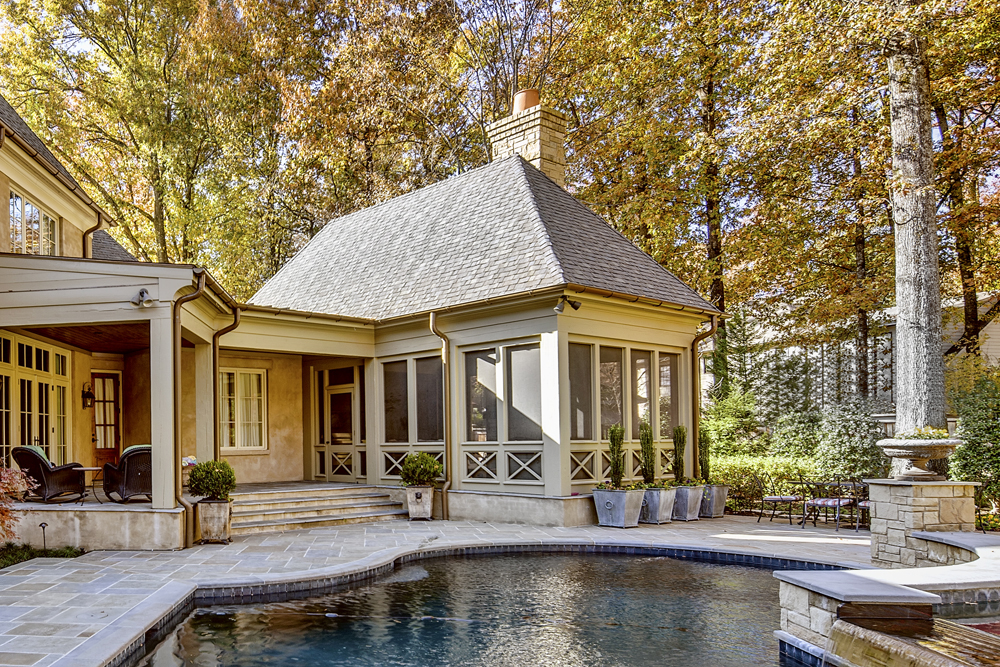 With the old screened porch now incorporated into the great room, the second task was to replace it with a new, enlarged, and improved version. This one has all the bells and whistles…including an outdoor kitchen with Wolf/Sub-Zero BBQ, cooktop, refrigeration drawers, and hood. A work sink, cypress cabinetry, reclaimed beams, and fabulous granite tops complete the portrait.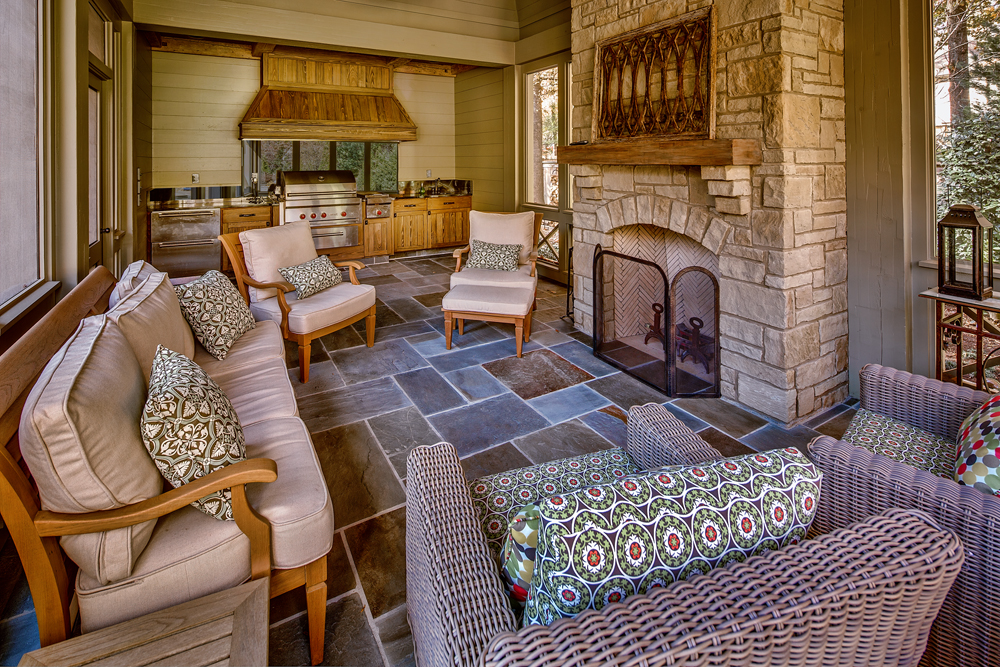 This shot looks out towards the back yard and captures the rebuilt stone fireplace, Pennsylvania Bluestone floors, vaulted and planked ceilings, massive 12" x 12" hewn framing timbers, and finely detailed screen panel work.