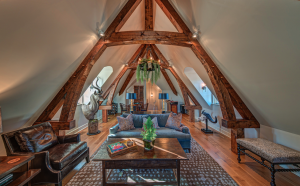 I suppose the usual term is "man cave", although the vision that my clients and I had for this attic space remodel didn't exactly conjure up visions of beer-drinking Neanderthals on sofas eating nachos and watching hockey.
I received a call from a couple who had purchased a home I had built a few years ago. They wanted me to convert the attic above the garage to a really nice living space, primarily for the husband, but also for them as a couple. A room to accommodate some of his safari trophies and for him to chill out in his own space. We all wanted to create a sophisticated, cleanlined, nicely detailed, space that would feature timber work, beautiful floors, and accent the existing beautiful arched window dormers.
The timber trusses and hip rafters would be the most prominent design element of the new space. We carefully considered several options but chose a truss design that included the extra detailing afforded by a hammer beam and then arched the collar beams to create a richer look. The side walls were left at a very low 30 inches to add drama and interest to the lines of the room. We chose the same species and grade as the floors downstairs, character grade rift and quartered white oak, and finished them the same natural color. We did change to mixed-width, wide boards, though, to add a more casual look. Our custom mill shop crafted a pair of narrow-stiled, shutter doors from reclaimed old-growth cypress for access to the mechanical room. Lighting was accomplished with pairs of sconces in each dormer, a wrought iron wagon wheel chandelier, and hidden monopoints to accent the trophies. The windows and doors were not cased but rather finished with crisp drywall returns to their jambs. Finally, we needed to deliver the HVAC under floor so used flush-mount, matching oak floor registers for the cleanest look.
Both my clients and I are very happy with the way "his space" turned out. A collaborative effort reflective of what MH Akers Custom Homes does and how we go about it. Attention to detail. Attentive to the desires of the client. Experience and talent to deliver truly custom-level results. Just what's needed to help you with your very own custom project ! Ready to start your Tennessee custom home or Arkansas custom home journey? Contact us today!